Physical Activity Initiative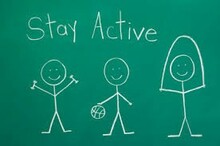 A number of provincial and national research studies of physical activity have concluded that regular physical activity enhances academic performances and improves mental health. The Minister of Education has initiated the Daily Physical Activity Initiative to be implemented in Alberta Schools in order to increase student activity levels and healthy behaviours.
A minimum of 30 minutes of daily physical activity, linked to the acquisition of the knowledge, skills and attitudes of the current physical education program is mandatory in Alberta Elementary schools. All classes have a minimum of 3 scheduled periods in the gym weekly. Teachers may choose to share gym classes, go outdoors or conduct daily physical activity in their classroom for the remaining 2 periods.