News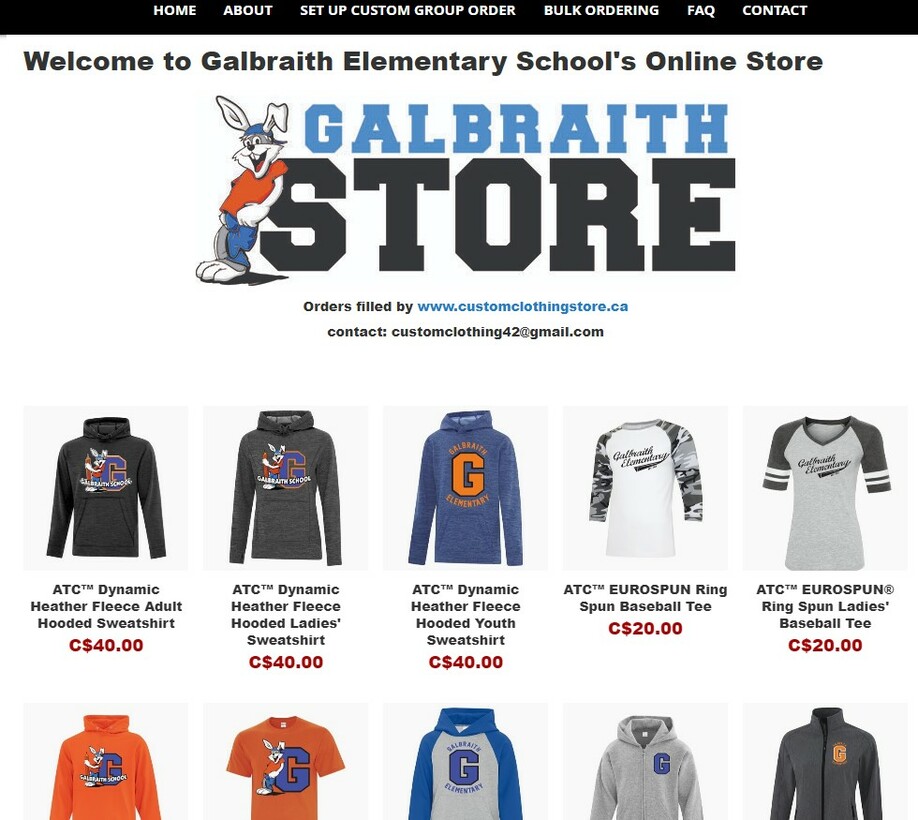 Posted on Feb. 9, 2021
Check out our clothing store through Custom Clothing!!   Orders take approximately 2-3 weeks for delivery.  All deliveries are sent to your home.   Click the image to visit the store!!  
Posted on Sep. 7, 2021
Welcome to our first issue of Galbraith Elementary School's monthly newsletter! Meet new staff and find important dates for the month of September. 
Posted on Aug. 20, 2021
http://gal.lethsd.ab.ca/download/361632
Posted on May. 11, 2021
To date, Alberta Health Services has identified 16 cases of COVID-19 at Galbraith Elementary School during the current 28-day investigation period.As a result, Galbraith is currently on Outbreak status.At…
Posted on Apr. 15, 2021
New student registration | Lethbridge School Division (lethsd.ab.ca) Use this link if you are new to Lethbridge School division only.  
Posted on Jan. 27, 2021
Check out our Grade 4/5 student informational writing from Ms. Fischer's class.  Students were tasked with creating informational texts to share with their class and beyond!   Check out the class books…
Posted on Jan. 13, 2021
Our upcoming Parent Summit Series begins January 20th with Mrs. Steph Martin, Teacher-Counsellor. All events will take place online via Microsoft Teams beginning at 6:30 PM.   Check out the flyer for…
2020
Posted on Dec. 18, 2020
We are excited to share our information about our upcoming Parent Summit Series beginning January 20th!  Summit series events will take place online via Microsoft Teams, and will be focused on the following…
Posted on Aug. 20, 2020
We have posted two new documents to our website, the COVID-19 Parent Information pages and the 2020-2021 School Checklist infographic on the return to school.   The parent information pages and infographic…
Posted on Aug. 19, 2020
Lethbridge School Division will stagger student entry in our elementary schools (K-5) over Tuesday, Sept. 1 and Wednesday, Sept. 2.Having a smaller number of students in our schools for the first two…
Posted on Jun. 30, 2020
Click on the link above   http://gal.lethsd.ab.ca/download/281585  
Posted on Jun. 8, 2020
The Lethbridge School Division Parent Survey is now live. We are looking for your assistance in helping schools structure learning in the best way possible for 2020/2021. To fill out the survey, please…
Posted on Mar. 15, 2020
Adriana LaGrange, Alberta's Minister of Education, provided an update on Sunday afternoon in regards to the COVID-19 situation. The update is below: I want to thank the many boards and education partners…
Posted on Jan. 20, 2020
For updated information about the upcoming EEP registration process, please click here.